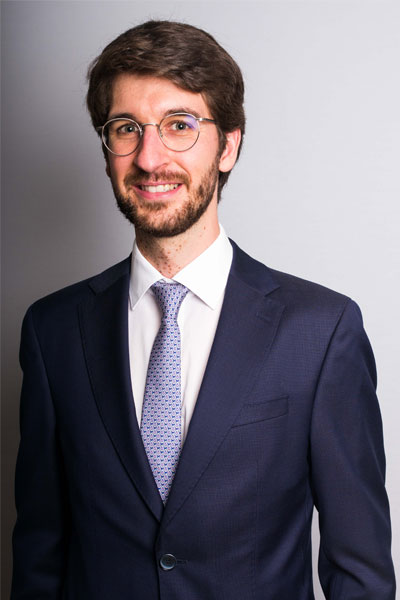 Me Basile Muller
 Attorney-at-law, Associate
Basile Muller provides legal advice and acts as a litigation lawyer, especially in the areas of private law (tenancy law, property law, labour law) and public law (construction law and land planning).
He studied law at the University of Geneva, which awarded him a Bachelor's degree in 2014 and a Certificate in Transnational law in 2015. He then graduated with a Master's degree at the University of Geneva, which was awarded to him in 2016 after an exchange semester at the Ruprecht-Karls-Universität in Heidelberg. The same year, he completed his academic studies by obtaining the Certificate of Advanced Studies in Legal Professions from the Geneva Bar School.
During his studies, Basile Muller worked as an intern at the Administrative Direction of Housing and Land Planning Office of the Canton of Geneva.
He completed his training at the law firm Ming, Halpérin, Burger & Inaudi, under the direction of Chairmen of the Bar Dominique Burger and Lionel Halpérin.
He was admitted to the Bar in October 2018 and joined Odier Halpérin Steinmann LLC as an associate in 2019.
Educational background
2018 – Admission to the Bar, Geneva
2016 – Certificate of Advanced Studies in Legal Professions, Geneva University
2016 – Master of Law, Geneva University
2015 – Exchange semester, Ruprecht-Karls-Universität, Heidelberg
2015 – Certificate in Transnational Law, Geneva University
2014 – Bachelor of Law, Geneva University
Memberships
Member of the Geneva Bar Association
Member of the Swiss Bar Association
Languages
French
English
German